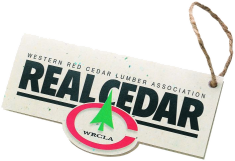 The Western Red Cedar Lumber Association (WRCLA) is a Vancouver (Canada) based non-profit association representing 27 quality producers of Western Red Cedar lumber products in British Columbia, Washington, Oregon and Idaho.
Founded in 1954 and known as "the voice of the cedar industry" – the WRCLA operates customer service programs throughout Canada and the United States to support its members' cedar products with information, education and quality standards.
Visit the WRCLA for some excellent, FREE resources to help with planning, and building with cedar lumber.